Artist Debug Mode
Jump to navigation
Jump to search
Artist Debug Mode is an extra mode in PC SuperTuxKart that enables more features. It is especially for Artists.
Enabling
To enable Artist Debug Mode, find <artist_debug_mode value="false" /> in your config.xml and change this to <artist_debug_mode value="true" />.
Features
Flying
You can fly with your kart over any map. This is quite useful to take a closer look at thing not visible from the road, or to skip large portions of a track to go straight to the area you're interested in.
I key: fly up
K key: fly down
No Ready-Set-Go
To speed up testing some tracks, in Artist Debug Mode, when you play alone against no opponent, the ready/set/go messages are skipped very quickly.
Cameras
First person camera: Fly around the map with WASD keys and rotate the camera with Q and E keys. Use a mouse to control your direction.
Behind wheel view
Behind kart view
Side of kart view
Top view
Change camera target
Toggle GUI: Hide the racing GUI, for screenshots, etc.
Hide karts
Tracks and karts features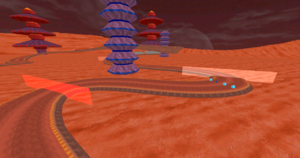 Debug checklines: Launch SuperTuxKart from the command line with --check-debug, and you will visually see where checklines are; active checklines will appear as red, inactive ones as white; and information about which kart crosses which checkline will be printed on the terminal.
--track-debug will enable you to see where drivelines are.
It is possible to set 0 laps in the race setup screen.
Powerups and banana items
You can give yourself limitless powerups through the Items submenu. The Attachments submenu provides options for things you usually get because of a banana.
Addons
You can see any addon karts or tracks before they are approved (or if they aren't approved at all) when having enabled Artist Debug Mode.
Availability
Unfortunately, for now, Mobile STK only allows seeing unapproved addons, all other features aren't available currently.