Tournament Field
Jump to navigation
Jump to search
Tournament Field is an addon soccer arena, created by CrystalTheEevee.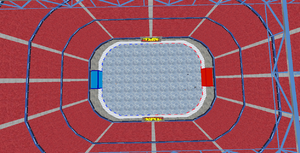 History
The Tournament Field was created and uploaded as an addon in April 2020. There should have been a Tournament Field (Default) arena as well, only differing in items positioning, but it did not get approved by addon moderators.
Description
Tournament Field originally was created for Soccer Tournaments. It is a copy from Icy Soccer Field, the most played arena, with a few changes, e.g. powerup positions or textures. Unlike the original Icy Field, it is inside, in a stadium. Around the icy field, there are bleachers. At the sides, there is a white-blue striped band on the blue team's side, and a white-red one on the red team's. Also, there is some banner advertising the tournament's wiki on both sides of the arena. The puck texture is custom and equal to the tournament logo and the field thumbnail. The red and blue goal are colored in the respective color, as well as the underground of the goal. Due to that, it is easier to see where the goal line is.