Cornfield Crossing
Jump to navigation
Jump to search
Cornfield Crossing is an official STK track, created by Jean-Manuel Clémencon (samuncle).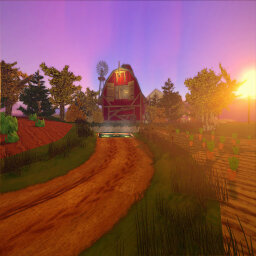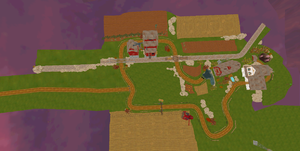 History
Cornfield Crossing replaced Bovine Barnyard as an official track since version 0.9.3. Bovine Barnyard however still exists as addon, but its graphics are not as advanced as Cornfield Crossing's.
Description
The track is most suitable for heavy or middle weight karts. A normal lap takes about 40 seconds, so the default lap number is 3.
The starting grid is placed on a straight ending in 3 gifts, thus the start is quite important. After the start there is a 80 degree curve to the right and a 10 degree curve to the left. This is followed by 2 bananas with a big nitro in between which is quite difficult to get. Then, the brown farm road is turning 90 degree to the right with 2 bananas and a gift in the curve. 2 small nitros and another banana are there before the track turns slightly right, followed by two gifts and a banana when crossing a disused railway line. Another turn after this leads into a big cannon which teleports players over a pond up into a house where the track continues with a big down and up, but without any curves. Once being out of the house, a long 180 degree curve follows, leading into another smaller house with 2 gifts a and a banana in between. After leaving the house, the street leads with smooth left-right-right-left curves to the home straight, which has two bananas in front of two small nitros.
The entire route has a lot of fences and invisible walls next to the road, making it nearly impossible to explore the landscape next to the route with fields, trees, farm houses, farm machines and much more.
However, overall Cornfield Crossing is one of the best-looking tracks in the main game and also has quite a good even if sometimes boring gameplay which makes it a popular track in online gameplay.