Achievements
Jump to navigation
Jump to search
In STK, players can get Achievements by doing particular things.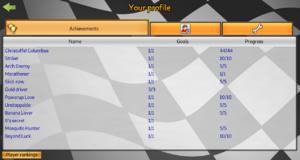 List of achievements
Arch Enemy - Hit the same opponent kart at least 5 times in one race.
Banana Lover - Drive into a banana at least 5 times in one race.
Beyond Luck - Win 10 single races in a row in Expert or SuperTux difficulty against 5 or more bots.
Christoffel Columbus - Play every offical tracks at least once.
Gold driver - Win against at least 3 AIs in Normal race, Time Trial and Follow the Leader.
Marathoner - Finish a race with at least twice the track's default lap number.
Mosquito Hunter - Squash opponents at least 5 times in a race with a swatter.
Powerup Love - Use at least 10 powerup in a race.
Skid-row - Skid 5 times in a single lap.
Strike! - Hit 10 karts with a bowling ball.
Unstoppable - Win 5 races in a row against 3 or more AIs.
There also is a secret achievement. It is and should not be publicly revealed how to get it.
Further information
A player can see his achievements by visiting his profile in Online menu. By searching for other players it is also possible to view their achievements.
If one has finished all requirements that are needed to get an achievement, he will be notified by a little message at the bottom of the screen.