Rocky Polygon
Jump to navigation
Jump to search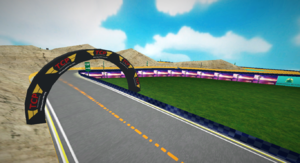 Rocky Polygon is the first track by kimden, created in August 2020.
Description
Rocky Polygon was created as a track to test skills of completing turns with various angles, a "polygon" for testing, which is reflected in the name. Therefore, the landscape is not very rich - only rocks and land are present. However, there are many sponsors from STK universe present.
The lap takes about 45-50 seconds, and the default number of laps is 3. The track is more suitable for medium and heavy karts.
The lap starts on a short flat start-finish straight with powerups, followed by 180° right and 160° left corners. Some small nitro cans are placed there outside of the normal driveline. Then there are several turns in different directions while the road goes up, the last of those turns has a banana surrounded by small nitros on the inside line.
Then there is a long long section with rather short straights alternating with corners. Corners become less tight while the road goes ahead (to be precise, the corners are 100° left, 90° right, 80° right, 70° right, 60° left, 50° right). One of straights contains nitro surrounded by bananas (probably they are standing closer than in some official tracks and therefore it's harder to do with a wider kart). This section ends with a 140° right turn with a banana on the inside line and a giftbox with nitro on the outside lines.
Then there are two rather straight parts (actually they both have a slight turn inside) separated by a tight 120° left turn. The first of these parts contains 6 small nitro cans, the second one contains a group of a giftbox, a banana and a small nitro together (it is very hard to get both a powerup and a nitro can on a high speed without hitting a banana).
Then there is a 90° right turn which leads to another more or less straight part (with 30°, 20° and 10° right turns). It contains a zipper, a giftbox, a few nitros and a few bananas. Using another right turn the track then goes onto the start-finish straight.
There are bananas on the inside line of a few corners, but all of them can be bypassed taking the very inner line. But in case you make a mistake the time is lost.
There is also a pitlane which is quite slow but contains nitro, and also a small zipper parts at the entry and the exit. Taking it loses approximately 4 seconds.
It is possible to use the barriers to climb up the rocks but this won't save time because of multiple checklines. However, you are encouraged to try every possible option to complete a lap because not all objects are the same as they are shown to players.
Overall, it is rather hard to make a perfect lap on this track.