Nasty Void
Jump to navigation
Jump to search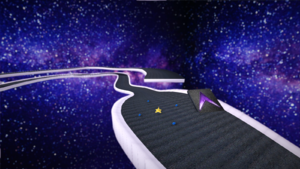 Nasty Void is an addon track created by skindoormimiz, the first track ever made by him, but it became an official addon on 8th of April 2020 after being reworked. It is the first featured track by him.
Description
The track is located in the middle of nowhere, everything you can see is a violet space.
The road splits right after the start, the top path is reachable thanks to a zipper ramp and it will rejoin with the bottom path after a series of turns (there is a possibility to jump down to the bottom path at some points which is maybe a bit faster), leading to a straight and a 90° right turn. The road becomes wider while doing a large 180° left turn, which is skippable with a small but difficult shortcut where the road is really tight. A long straight is followed by a really tight tilted 180° turn, which goes down and leads (through the straight) to a really large 90 degrees turn until the finish line. This last sector has two big nitros on the edge of the road.
The entire track uses a single texture that affect the gravity of the kart, so it's possible to recover from falling or drive under the road.
The music used is Black Mansion by 0zone0ne.
Changelog
The official track got improved a lot since the beta version that it can be considered a different track.
Revision 2:
Added ambient light map
Main path is no more like USC
You don't get rescued while mid air in the shortcut
Items are now closer each other because of tighter road
The jump is less high
Top Path has more nitro
Smoother Main Path and removed 700 useless faces (no more bouncy bowling balls)
You can run under the Main path, useless but lol
These strings can be found in the license of the track
Links
Install ingame: /installaddon nasty-void