Hello
Jump to navigation
Jump to search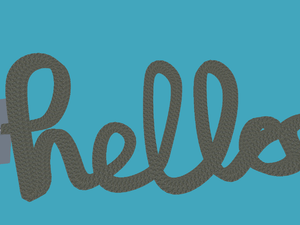 Hello is an addon track made by skindoormimiz, who considers this as the most lazy track he ever made.
Description
The entire track is a hello shaped tunnel. The karts start from the "h" and end in a cannon right after the "o". The default number of laps is 2 and the music used is "Miniature Motoring" by Max Freeman & Chris Leutwyler.
There are three tight corners (two in the first part of the track and one near the end) which require special attention if you want to pass them perfectly. Other turns are not so difficult and are rather similar. A big nitro at the end can be important.
Updates
The second revision fixed the glitchy start positions.