Hacienda
Jump to navigation
Jump to search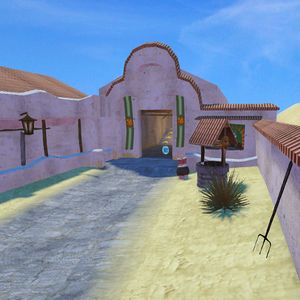 Hacienda is an official SuperTuxKart track, created by Jean-Manuel Clémencon (samuncle).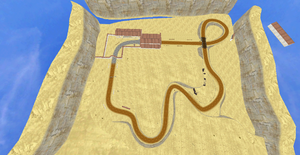 History
Hacienda is part of the game since version 0.8. The track was slightly changed since then, an old version is available as addon called Old Hacienda.
Description
Hacienda is most suitable for middleweight karts. A typical lap takes about 35 seconds, the default number of laps is 3.
After the starting grid, which is located in a small straight, a 90 degree turn to the right follows. A longer straight, starting with two gifts and going through the actual hacienda, is the next part. There is also a small zipper ramp inside the hacienda, but it isn't used much because it is pretty difficult to do. After the hacienda section, the road continues in a canyon-like landscape, with two gifts before the road goes up with a long curve and ends in a bridge with two more gifts over the previously driven road. After the bridge, the road turns sloghtly to the left with a small nitro can surrounded by two gifts. Then, a long 180 degree curve to the right follows, containing three more small nitros and ending in a short straight with a gift surrounded by two small nitro cans. A sharp 145 degree curve to the left, another short straight with two gifts and a long 180 degree curve to the right with two small and one big nitro come next before two small curves, one to the left with three gifts and one to the right lead onto the final straight.
The track is located in a canyon for the major part, with a dusty road and sandy offroad. The actual hacienda building is only a minor part of the track.
Overall the track is considered a graphically rather boring and empty track, since there are hardly any things except the road, the sand and the building. A revamp is wanted by developers and samuncle is currently working on improving the track.
Even if Hacienda is a rather badly looking and boring track with little challenge for top players and thus pretty much randomness in results, it is one of the most popular tracks in online gameplay, mostly due to its newbie-friendliness.